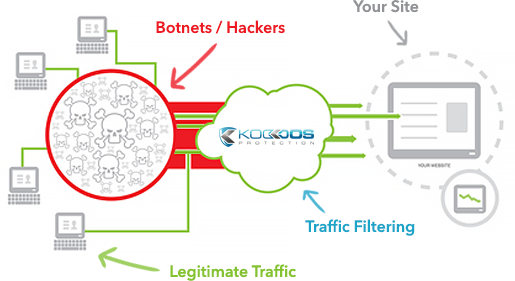 INFORMATION REGARDING A DDOS ATTACK
WHAT IS A DDOS ATTACK?
DDoS attacks are an attempt by a malicious party to overload systems and networks with malicious requests so that they can no longer serve content. For a website, this means that the site will not load and customers are unable to make purchases, view content, or log into accounts. For networks, DDoS attacks can cause bandwidth saturation or even inundate network infrastructure, causing widespread outages to customers on the entire network.
Distributed Denial of Service attacks have became a very real threat to those conducting business on the Internet. DDoS attacks represent as the most costly form of cyber crimes resulting said in the losses of millions per year and they can cripple your online presence and your wallet.
In this day and age, if you do businesses online through your website or have other important assets online, then protection against such attacks is not only crucial but just as important as other security implementations. With packages ranging from 10 Gbps up to 350 Gbps of DDoS protection, we can fulfill your protection requirements because at KoDDoS, we believe downtime is not an option.
A SIMPLIFIED VIDEO OF WHAT DDOS ATTACKS ARE.
DDOS TECHNOLOGY
Enterprise Level DDoS Protection requires many layers of filtration to mitigate attacks. Due to the emergence of new types of attacks using large amounts of bandwidth, we have deployed a large 550 Gbps network. Once the attack reaches our network, we apply ACL rules blocking part of the malicious traffic at the edge of our network.
Then the traffic reaches our scrubbing centers where it is filtered based on signatures, which are predefined traffic patterns that are known to be DDoS attacks, and heuristics which are abnormalities in traffic patterns which may be indicative of a DDoS attack. We inspect and analyze each packet, ensuring no malicious traffic, which could cause a service disruption, is reaching our clients.
KoDDoS DDoS Technology protects against layer 3/4 attacks as well as layer 7 attacks which are much harder to detect and that target applications and web servers using only a small amount of bandwidth.
We protect your website against all types of attacks such as:
TCP SYN Flood
TCP ACK Flood
ICMP Echo Request Flood
TCP SYN-ACK Reflection Flood (DRDoS)
TCP IP Fragmented Attack
Intelligent HTTP and HTTPS Flood Attacks
TCP Spoofed SYN Flood
UDP Flood Attacks
DNS Amplification Attacks
WHAT AND HOW OUR PROTECTION WORKS
THE DDOS MITIGATION PROCESS
1. The DDoS Attack
A DDoS attack targeting your business is launched using one or a mix of the multiple types of attacks available nowadays in order to make your website or service inaccessible.
2. DDOS MITIGATION
Our DDoS mitigation solution detects and blocks the attack in less than a few milliseconds at most, ensuring that your business remains online and without interruption of service.
3. EXPERT ANALYSIS
Our team of DDoS experts is available 24/7 to monitor incoming DDoS attacks. We can take measures in real time or on demand to customize our 24/7 DDoS Protection.